Written by:  Sarah Lebeck-Jobe, MS in MFT, Bereavement Specialist at Madison MFT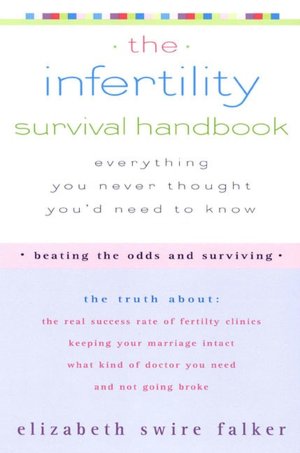 The word "infertility" can evoke strong emotions in us all.  We can journey through sadness to anger, and the grief of dashed dreams can make us even question our identities as women.  Many couples who find their path to creating a family blocked by infertility often experience the "infertility roller coaster." If you are on the roller coaster right now, perhaps The Infertility Survival Handbook could help.
The Infertility Survival Handbook is an educational, supportive companion for women coping with infertility. The author, Elizabeth Swire Falker, chronicles her multi-year journey to motherhood through extensive infertility treatments, which culminate in the joyful adoption of a baby boy. She gives voice to the feelings of many women struggling with infertility: "I was miserable. Somewhere deep down inside me, I felt like I was dying" (pg. 15). If you have ever felt like this during your journey toward family-building, or if infertility has made you question your identity as a woman, this book may provide comfort. Falker shares wise sayings that can help women get through tough treatments, such as,  "Remember: the infertility roller coaster is horrible for everyone" (pg. 25). While this may not be the most encouraging message, it can be helpful to know that you are not alone in struggling through this difficult time.
Ultimately, Falker reveals how her attitude toward her infertility changed: "Our infertility takes us to a strange, dark place full of fear and failure and longing. But it offers us our greatest potential for growth …. I've grown in profound ways because of the anger, the hurt, the confusion, and the struggles I've endured to have my son" (pg. 254).
The majority of the book provides practical information about common causes of and treatment for infertility in both women and men. She also shares guidelines for how to find the best infertility doctor for you. Published in 2004, the medical procedures may now be out-dated, but the text is emotionally supportive and the information about the basics of infertility is still highly relevant.  For example, she notes the impact of stress on the ability of women to conceive: "The October 2001 issue of Fertility and Sterility reported the the most stressed-out group of women undergoing infertility treatment were 93 percent less likely to have a baby than the more relaxed patients" (pg. 216). Falker provides suggestions about how to reduce stress even while acknowledging that dealing with infertility can be the most stressful experience in a woman's life.
Some of the best advice Falker shares is in the chapter about how to talk to friends and family about your infertility. "[T]here comes a point when you will need support from other people. Support is extraordinarily important when you're struggling with infertility. Trust me; you won't be able to cope with this without help and support from friends and family" (pg. 149). If you are feeling stressed and overwhelmed with the roller coaster of infertility treatment and need support in addition to your friends and family, please don't hesitate to get help.
As therapists we understand there are times when the we cannot turn to our family or friends, or that their support is not enough for these waves of emotions.  If you feel this way, do not hesitate find a professional specializing in infertility.  Marriage and Family Therapists can provide much needed support for infertile couples. We help couples find ways to cope with the stresses and grief associated with infertility, the anxiety and physical difficulties of treatment, the challenges it brings to your relationship, and the life-altering stage of welcoming a child into your family. If you are struggling with any stage of infertility, contact us at Madison Marriage and Family Therapy. Our intake coordinator will guide you to our infertility specialists so you can receive the care and support you need during this uncertain, yet hopeful time.